China's top diplomat has warned that a "cold war mentality" should never be part of its relations with the Philippines, amid growing concern that Manila is moving closer to Washington.
Wang Yi – who was elevated to the Politburo last year along with his appointment as head of the party's foreign affairs commission's general office – was speaking to former Philippine president Gloria Macapagal Arroyo at a meeting on Monday in Beijing.
Wang also urged the two sides not to lose momentum in their efforts to "appropriately manage differences" over the South China Sea, as agreed in January by Chinese President Xi Jinping and his counterpart Ferdinand Marcos Jnr.
"The two sides should … not allow maritime issues to hinder the overall development of bilateral relations, nor allow third parties to undermine the friendly relations between China and the Philippines, let alone allow the return of the cold war mentality that undermines regional peace and stability," Wang said.
According to a transcript released by China's foreign ministry, Wang described Arroyo as "a good friend and an old friend to the Chinese people". He called on her to "continue to play a constructive role in a healthy development" in bilateral ties.
Arroyo, who served as president from 2001 to 2010, is the Philippine parliament's senior deputy speaker and was in Beijing as leader of a youth delegation after taking part in last week's Boao Forum for Asia in Hainan, southern China.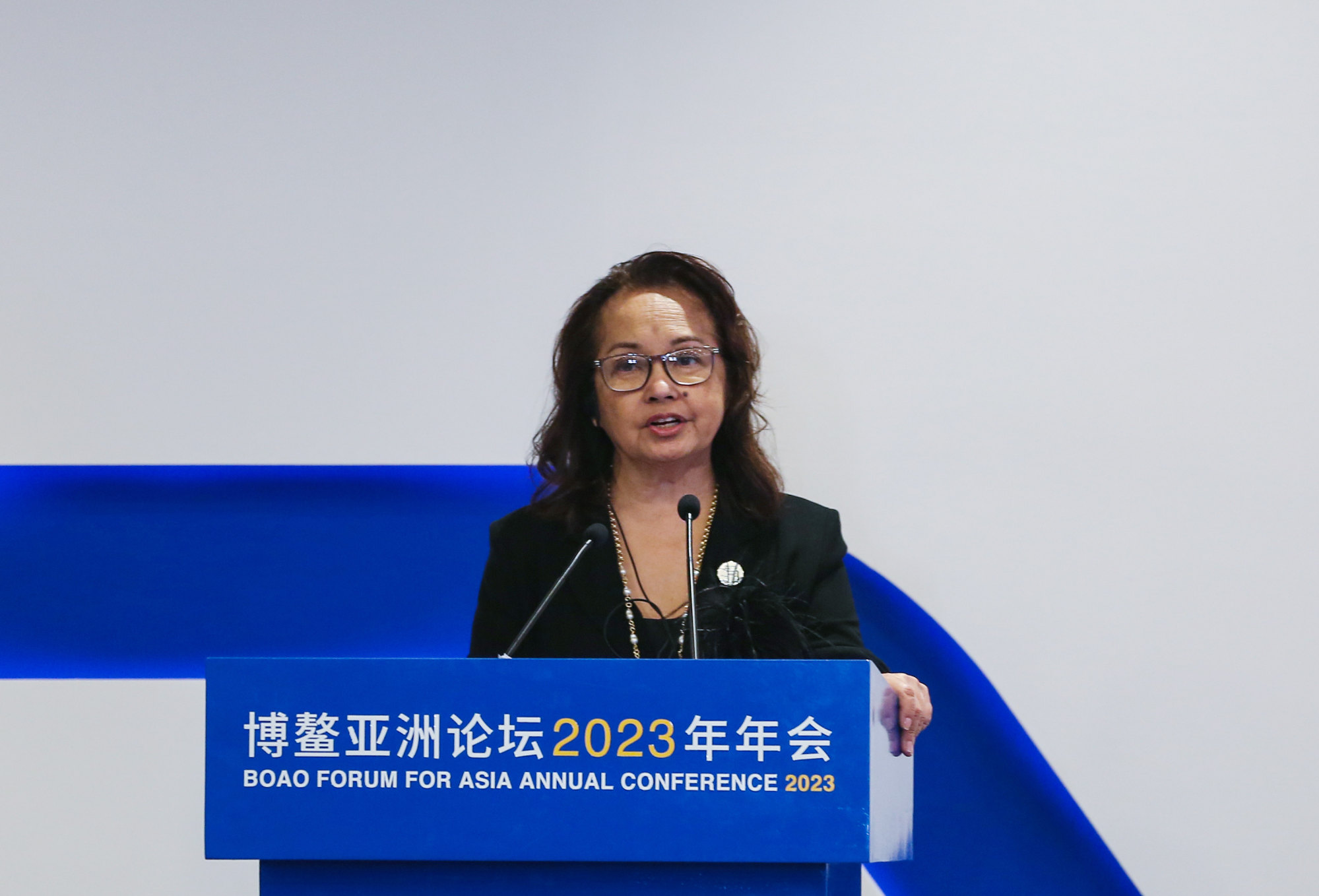 Former Philippine president Gloria Macapagal Arroyo speaks at a session on building cooperation and security in the South China Sea at the Boao Forum for Asia in south China's Hainan province. Photo: Xinhua
Tensions emerged between China and the Philippines in February after Manila accused a Chinese coastguard vessel of disrupting a Philippine supply mission to the disputed Spratly Islands with lasers.
Marcos summoned Beijing's ambassador to protest against China's "increasing frequency and intensity of actions".
Beijing is also increasingly concerned about Manila's plan to allow the US military access to four more bases – bringing the total to nine – in the archipelago state. Marcos described the agreement with its treaty ally as part of an effort to boost his country's coastal defence.
In a move that may further rattle Beijing's nerves, Manila on Monday identified the four new military camps. Two are on the northern tip of Luzon – which lies directly across from Taiwan – while a third on Balabac Island in the west is close to the Spratlys.
When asked about the bases, Chinese foreign ministry spokesman Mao Ning stopped short of criticising the Philippines but blamed the US for intensifying tensions in the region.
"The US, out of its own selfish interests, maintains a zero-sum mindset and keeps strengthening its military deployment in the region, the result of which is bound to increase tensions and jeopardise regional peace and stability," Mao said.
"Regional countries should think deeply about what is mutually beneficial, so that they can make choices that are truly in their own interests and conducive to regional peace and stability."
China is deeply worried that an expanded US military presence will compromise its strategic interests in the South China Sea and the Taiwan Strait, where intense China-US rivalries are playing out.
There is also a strategic dilemma for Beijing, as its US-aligned neighbours – including the Philippines, Japan, Australia and South Korea – are encouraged to move closer to Washington, in what China regards as a containment strategy.
Beijing has responded by stepping up a diplomatic charm offensive towards its neighbours in recent days. Last week, Xi hosted leaders from Singapore and Malaysia, while on Sunday Chinese Premier Li Qiang met Japanese foreign minister Yoshimasa Hayashi.
At a high-level reception in Beijing, Li – who was appointed just three weeks ago – called for joint efforts to manage disputes and eliminate interference, so as to broaden cooperation between the two countries.
Source : SCMP