After the Indiana Pacers acquired Tyrese Haliburton in February, it quickly became clear that they'd found their next franchise player. The 22-year-old point guard with superstar potential is everything you could ask for as the face of your organization — on and off the court.
Still, when Haliburton hears those words — "face of the franchise" — he starts laughing.
"That's so funny. It's so funny just hearing you say that," Haliburton told Basketball News with a chuckle.
"The way I look at it, that's not for me to decide. I guess that's more for fans and media to decide who that is, and if people say it's me, I guess I understand."
While Haliburton may not be comfortable with that label just yet, Pacers general manager Chad Buchanan has no qualms about describing Haliburton as the team's centerpiece going forward.
"We're gonna build our team around him," Buchanan told Basketball News. "We see him as hopefully being the next Reggie Miller. We had a Reggie Miller mural painted on a building in downtown Indianapolis, and I think our dream is that one day Tyrese will have [his own mural] up somewhere in downtown Indianapolis."
Haliburton isn't taking this opportunity for granted. He admits that he has dreamed of being a team's focal point since his childhood, and he's ready for everything that being "the guy" entails.
"As a kid, I would've f****n' killed for this, so it's fun to be a part of," Haliburton said. "And at the end of the day, it's just basketball. And the things in life that come with it, I'm just gonna be who I am and share my values on certain things… I just take it naturally and have fun with it. It's a great opportunity for me."
Haliburton couldn't be happier in Indiana, and he's come to realize that the Sacramento Kings' decision to trade him six months ago was a blessing in disguise. But back when the deal first happened, he was blindsided by the move and devastated.
THE TRADE
Haliburton truly thought he would finish his career in Sacramento, so he was heartbroken when the Kings ended their marriage after just 109 games. It didn't help that the Kings assured him that he had nothing to worry about the day before the trade.
"Before I got traded, I felt invincible," Haliburton told Basketball News. "I was playing really well. Right before I got traded, I had 13 [points] and 17 [assists]. They kept bringing up trade rumors and I wouldn't even bat an eye because I'm like, 'There's no way that they actually would trade me.' I wasn't worried. And I think that [trade] just made me look at having more self-awareness and realizing I'm not bigger than the ultimate picture."
A week before the blockbuster deal, Haliburton erupted for a career-high 38 points to go along with 7 assists, 5 threes and 3 steals against the Philadelphia 76ers. His very next outing was a 21-point, 8-assist performance against the New York Knicks. In his final game with the Kings, he had the aforementioned 13-point, 17-assist showing in a win over the Oklahoma City Thunder.
He was playing the best basketball of his NBA career.
Then, on the morning of February 8, Haliburton got a call from his agent, Dave Spahn. Spahn told him that he was likely getting traded, and Haliburton initially thought it was a joke. Once he realized it was serious and learned the details, he started sobbing. The Kings were sending Haliburton, Buddy Hield and Tristan Thompson to Indiana in exchange for Domantas Sabonis, Justin Holiday, Jeremy Lamb and a 2023 second-round draft pick.
Haliburton cried for nearly an hour before finally reconnecting with Spahn, who had the Pacers' brass on the phone. They told Haliburton how much they valued him and outlined their plan to build around him going forward.
"I needed to hear that," Haliburton told Spahn after the call with Indiana's front office.
Immediately after the trade, the Kings faced intense criticism. Fans, media, players and rival executives bashed the deal. Many people were stunned that Sacramento was willing to part with Haliburton. Several players reached out to Haliburton or pulled him aside during games to show their support and express their disbelief about the move.
"To be honest, at first, I truthfully didn't care [about the reaction]," Haliburton said. "Obviously, I do stuff with 'The Old Man and the Three,' and JJ [Redick] is a good friend of mine. I remember talking to Dave on the phone the day of the trade, and Dave was like, 'Yo, on ESPN, JJ is killing the Kings right now!' And in my head I was like, 'Truthfully, man, I don't give a f**k. I don't care.' I didn't care at first. For me, I only cared about how I felt about it. I didn't care about anybody else. But I think as time went on, I got to hear more opinions from people that I respect, and then, that's when I started to listen to it.
"The only real opinions that I truthfully care about — and I've realized this since I've been in the league — are my peers. So when I hear what JJ said, and then I hear what Draymond [Green] said. And then, guys pulling me aside —  [Kevin] Love pulling me aside when we played in Cleveland, and Kyrie [Irving] and guys like that kind of talking to me about it. Kyrie DM'd me on Instagram. Even the other day, I'm playing in the Drew League and Norman Powell pulled me aside; I hadn't seen him since I got traded. It feels good when it's your peers [with that opinion] because there's nobody that I respect more than my peers in the NBA. If they feel that way, then it's like, 'Oh okay, cool.' But at the end of the day, the No. 1 thing was how I felt about it."
Buchanan doesn't believe it was a one-sided deal since both franchises got exactly what they needed.
"We gave up a really good player in Domas too," Buchanan said. "They had a lot of guards and had some flexibility to maybe move one of them; we had multiple bigs and we kind of had flexibility to move one of ours. So our needs and their needs kind of matched up, and the roster situation matched up as well. For them, I'm sure having Domas be available made it a great deal for them…
"With what Sacramento needed and what we're trying to build, it was a win-win situation for both teams — I wouldn't say anything bad about Sacramento because they had multiple talented guards and they had to make a decision. It was hard for them to play all of those guys, I'm sure. And for us, it was hard to play Myles [Turner] and Domas together. So we were both kind of in a situation where we had to make decisions on multiple good players at the same position. It just happened to work out that we both walked away with good talent out of the deal."
Haliburton has spent the last six months reflecting on everything that happened. While that wound still hasn't completely healed, he's making progress.
"I'm not gonna lie — for a while, it was just complete resentment towards, honestly, everybody in the organization if I'm being quite frank, even people who had nothing to do with [the trade]," Haliburton told Basketball News. "It was just resentment towards the organization as a whole. And that was so immature of me. It's funny — the other day I was just writing down regrets I have in my life, unfulfilled expectations and resentments, and the only resentment I could come up with in my life right now is the Sacramento Kings. And it's like, I don't want to hold onto that.
"If I'm being completely honest, that [trade] is such a blessing for me. It's so easy now to look at it that way, but it's a complete blessing for me to be in the situation that I'm in, to have the ability to showcase what I can do and play my natural position. It's helping me a ton. So, you know, it's love at the end of the day. It is what it is. Just taking a step back and self-reflecting on a lot of different things in life, I think it made me a bigger person and just have more self-awareness."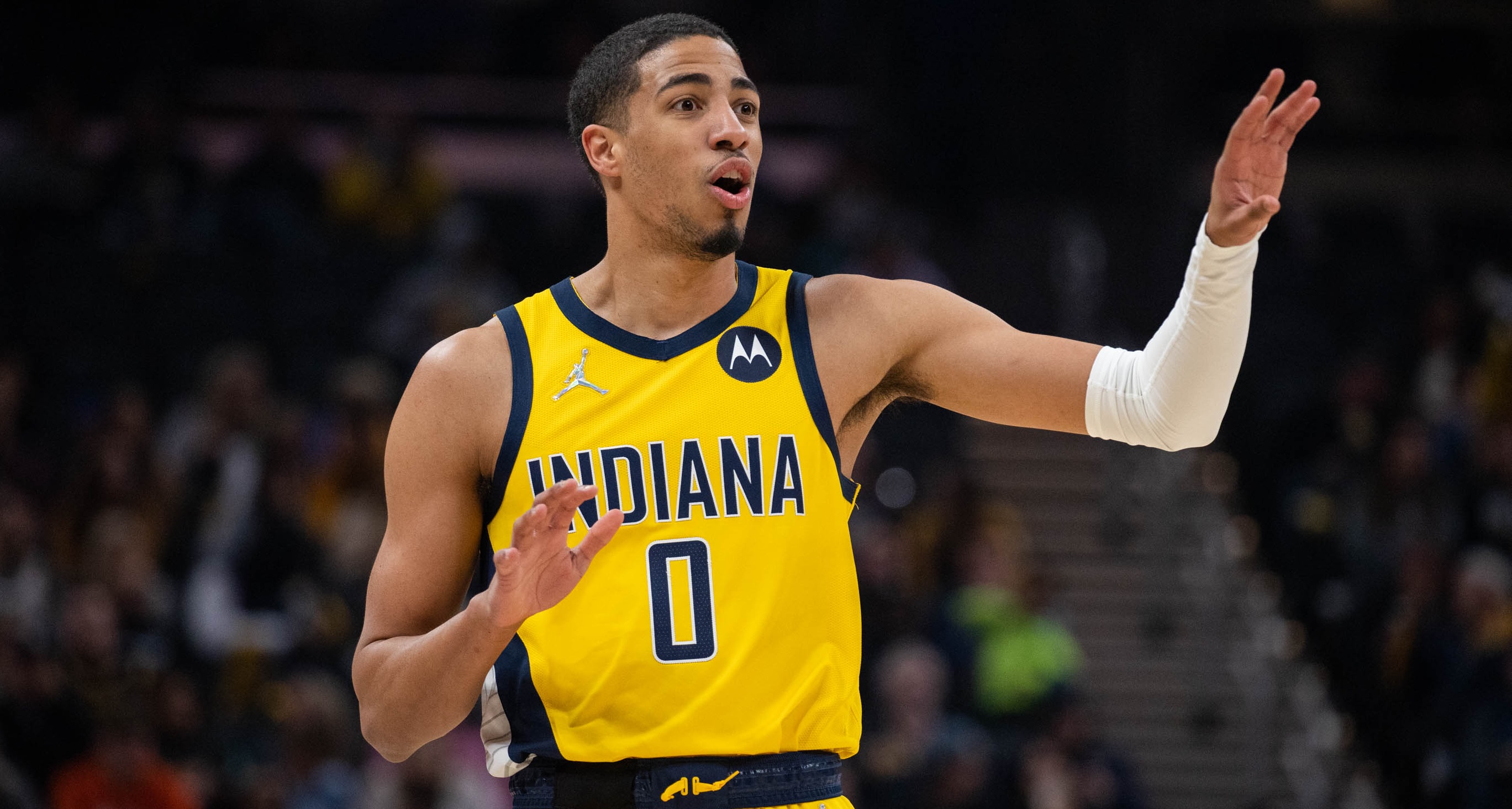 When told that this is a very mature way to view the situation, Haliburton shrugs.
"I'd be lying to you if I tell you I don't have my moments [of immaturity] because it's just human nature," he said. "But I think I've had great teachers in my life in all different aspects, great mentors. And I was just raised the right way. I think a lot of credit goes to my mom and my pops and just how they raised me."
While he has started the process of moving on, make no mistake: he's still using the trade as a source of motivation, and he's determined to make the Kings regret their decision.
"I think for the rest of my career, that [trade] is in my head, right? I think the great ones take little things, negative things and run with them," Haliburton said. "It's funny — when I do things well, people are always like, 'Look at what the Kings did!' I love that stuff. That's what I love. My whole life, I just love proving people wrong… Everything I do, I just want it to be like, '[Look at what the Kings did]!'"
Haliburton seeks out any slights and feeds off of them. Over the years, there's been no shortage of fuel for his fire. After all, he was a three-star recruit coming out of high school. After two years at Iowa State, he slipped to No. 12 in the 2020 NBA Draft. He's used to being doubted and battling adversity, and getting traded was just the latest addition to the bulletin board.
"I've been overlooked since I was a kid; since eighth or ninth grade, I've felt that way," Haliburton said. "That's why I've always been who I am. And that's why I'm just so appreciative of where I am today because of what I've been through in my life in terms of being overlooked. Being where I am now is such a blessing. Even though I obviously get a lot of love — like, I'm sitting here talking to you right now — and people appreciate me as a basketball player and as a person, I still find every little thing that I can to make me in my head believe, 'I'm still overlooked.' And to be honest, I might not get the respect that I deserve…
"I use every little thing as fuel to the fire, to be honest. Like, everything. Like, a dude who tweeted something and tagged me in the tweet and he has three followers, I use that. Like, every single thing. That's just naturally who I am as a competitor. If somebody has something to say or somebody feels a certain type of way, I use those things. I use how people have viewed me. I think it's just the competitor in me and the competitive spirit that I have."
A NEW HOME
It's not easy to change teams midseason, but Haliburton handled the transition quite well.
While he only played 26 games with the Pacers last season, it didn't take long for him to win over the fan base — averaging 17.5 points, 9.6 assists, 4.3 rebounds, 2.2 threes and 1.8 steals per contest on .502/.416/.849 shooting splits.
Haliburton was born and raised in Oshkosh, Wisconsin — a five-hour drive from Indianapolis — and he believes his Midwest roots have helped him get acclimated to Indiana and connect with the fans.
"It's such a natural fit," Haliburton said. "I'm a Midwest kid through and through, and my girlfriend's from Iowa. We are like super Midwest people. It's not far from home… [Also], I think it's been a very natural fit just because of the way I play. And I think Indiana is basketball. I just play naturally and just have so much fun with what I do that I think they appreciate what I bring to the table and the spirit and energy that I play the game of basketball with. So I think that's why it fits so well. I'm just really excited about it."
Buchanan said that Haliburton and the community are "meshing together perfectly." For example, the 21-year-old has already been spotted at local high-school basketball games, which to Buchanan shows how much he's "immersing himself into the culture here."
"If you look at his personality, he's very, very humble, very hardworking, very team-oriented, which have always been traits of the Pacer teams over the years," Buchanan said. "I think he has an appreciation of the history of both the Pacers but also just basketball in general, and he's a lot like our average fan here in Indiana who grew up loving basketball, knows the game and appreciates guys who play the right way. He really epitomizes almost all those qualities, so it's been a seamless fit for him with our culture. He has an appreciation for the game of basketball. He loves it as much as anybody I've been around since I've been in the NBA, so I'm very optimistic about his future because of that quality."
Buchanan raves about Haliburton's impact on and off the court, stressing that he makes everyone around him better both as a facilitator and a culture-setter, "lighting up the room" as a charismatic and outgoing person, but also a humble one.
"I think any time you have a point guard who likes to make others better, that's a great starting point to build a team," Buchanan said. "He's very unselfish. But he also knows that there are nights and quarters and possessions where it's, 'Hey, the team needs me to score right now.' And his feel for the moment, his feel for the game and his feel for the pulse of his team are really exceptional for as young as he is. I think, as an organization, sometimes we kind of forget that he's only got two years in the NBA because it feels like he's a 10-year veteran. He has a great understanding of what's going on."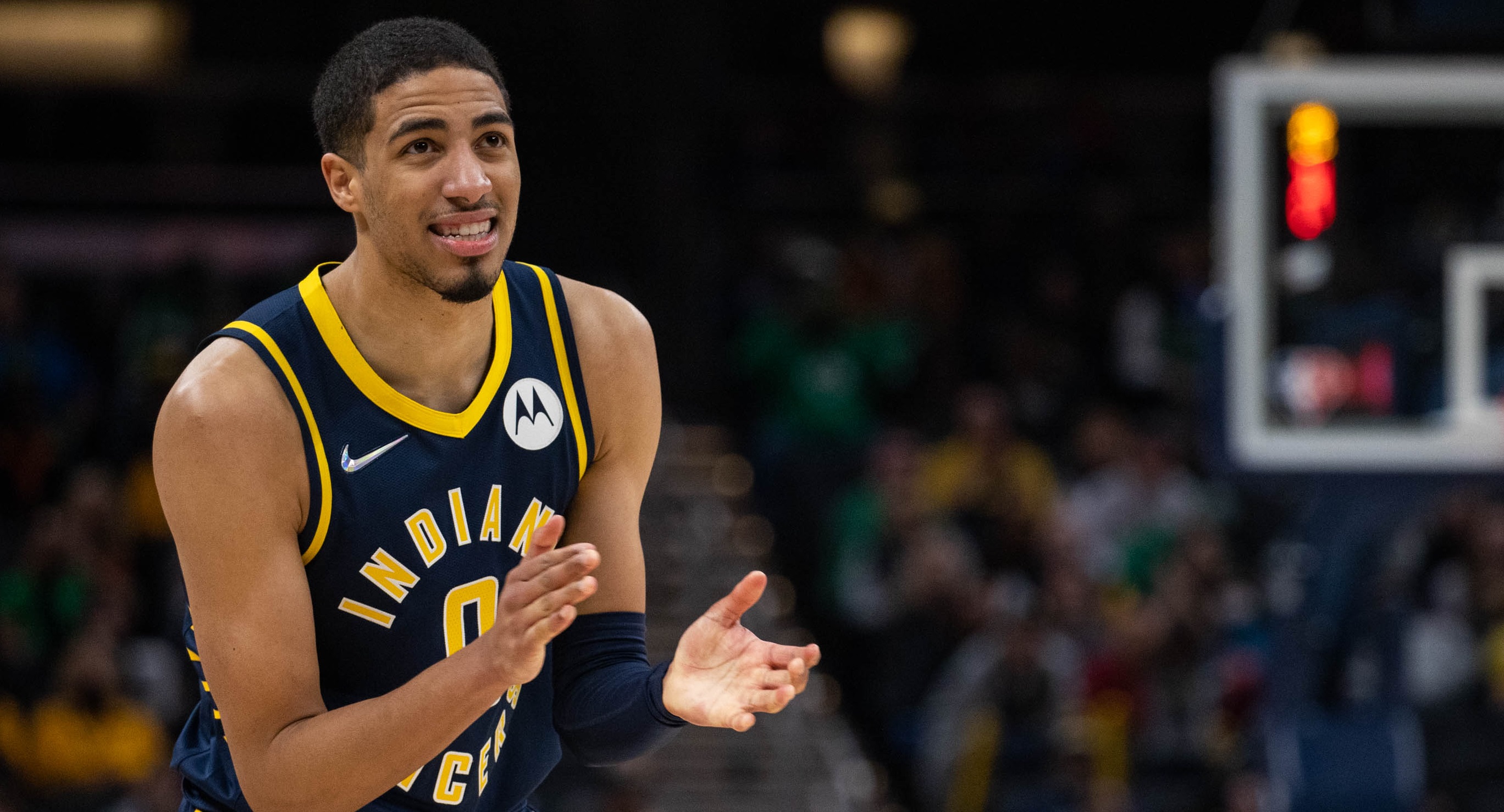 How important is Haliburton to Indiana's culture? Buchanan says that even if Haliburton wasn't an NBA-caliber player, he'd find a job for him within the organization because his infectious energy is so important.
"He's just one of those guys that just brings energy to our gym every day, and it's so, so hard to find guys like that," Buchanan said. "I mean, there are some out there, but our league is very 'me' centered and Tyrese is a 'we' kind of guy. It's very refreshing to have a guy with those qualities, and I think it'll rub off on a lot of people around our team moving forward.
"Even if he wasn't playing right now — like, if he wasn't an NBA-caliber player — he's the type of guy you'd want on your staff, whether it be as your assistant GM or assistant coach or player-development guy. Tyrese is one of the few guys that I've been around during my time in the NBA where [that's the case]… It's hard to describe what he brings for us culture-wise because there are so many good traits that he has and we're just trying to tap into as many of them as we can and put as much talent around him as we can to build this team."
The Pacers have already started surrounding Haliburton with talent, as their young core now features Bennedict Mathurin, Chris Duarte, Isaiah Jackson, Jalen Smith, Aaron Nesmith, Andrew Nembhard and Kendall Brown among others. Indiana also has veterans such as Myles Turner, Buddy Hield, T.J. McConnell and Daniel Theis on the roster.
With their youth, draft picks and cap flexibility, the Pacers are setting themselves up nicely for the future.
"Man, I'm really excited about it," Haliburton said of Indiana's long-term potential. "I'm really excited about the opportunity to build something young and starting from scratch, it feels. I think what Memphis has done is kinda what every young team is aspiring to do — have a bunch of young pieces that grow together, draft well and then compete for a championship. That's big for me — to be able to kind of start from scratch and be a part of that culture building and everything that comes with it… I think that's just the fun part about it, just being so young and getting to grow together, I think that's really exciting."
Indiana selected Mathurin with the No. 6 overall pick in this year's draft, hoping that he and Haliburton can form a dominant one-two punch in the backcourt moving forward. Last season, Mathurin was the Pac-12 Player of the Year, averaging 17.7 points, 5.6 rebounds, 2.5 assists and a steal per game for Arizona.
"I think that we just complement each other in so many different ways," Haliburton said of Mathurin. "I think the most important thing about it is that we both love basketball. I think that's huge for me, being around somebody who truthfully loves the game of basketball and wants to be around, wants to be in the gym late at night, wants to watch film, all those things. That's big for me in terms of building a culture and building an organization. If you have guys who love basketball and really enjoy it, then it's hard not to be good. That will just happen naturally. So in my short period of time being around Ben so far, I can definitely see that, and I'm really excited to grow together and learn together and just kinda learn each other on and off the floor."
"Tyrese was a very big fan of Ben at Arizona and during the draft process, and I think he likes their fit together," Buchanan added. "Ben's got some physicality to him and is a nice complement to Tyrese. And I think Tyrese saw, like, 'I can help Ben play well — my game will help magnify and amplify what Ben can do, and help him succeed.' With all of our young players, I think he sees that… Ben is a very confident player, but he's also very young. Knowing that Tyrese, who's kind of the leader of our team, believes in him from Day 1 will only help his confidence and help him play well as a rookie and grow as a player in general. That's a big thing for a young player and their confidence — knowing that the key players on your team believe in you before you even step foot on the court with them. Our coaches are very excited about that combination as well."
During the second half of last season, Turner was sidelined with a stress fracture in his foot, so he hasn't gotten a chance to play with Haliburton. Buchanan is looking forward to seeing that pairing as well.
"He's yet to play a single minute with Myles, and I think he's excited about that," Buchanan said. "This is an opportunity for Myles to play with somebody who's constantly looking to set other guys up, and so I think Myles and him will have a good connection."
Kevin Pritchard and Buchanan often rave about their young point guard, but the respect is mutual. Haliburton had plenty of positive things to say about the Pacers' player-friendly organization.
"I think so far, KP and Chad have been great to me and my family," Haliburton said. "From the people that I've talked to in the organization, they'd say the same thing. I think that's a big part, right? Just putting your players first. I think that's what makes Golden State so special is how they treat their players. Obviously they have Steph Curry, Klay Thompson and great basketball players, but I think from an organizational standpoint, they treat their players so well and their families so well; that makes guys want to be there.
"I think that's the most important thing that franchises can do is treat their players the right way, and Chad and KP and the coaching staff and just everybody's done a great job of welcoming me and my family with open arms and just treating us like family from the jump."
Haliburton is so comfortable in Indiana that he can see himself finishing his career with the Pacers.
"For sure. I think it just fits really well into the direction I see my life going in, and I think it's such a natural fit," Haliburton said. "I definitely could see myself being here long-term. I just bought a house, so I hope it's a long time (laughs). I hope!"
THE NEXT STEP
Since elementary school, Haliburton has loved being a facilitator. Last season, he totaled the fourth-most assists in the NBA (628) and averaged the seventh-most assists per game (8.2).
"That's always been who I am ever since I can remember," Haliburton said. "I started playing point guard in fourth grade, and it's always kind of come natural for me. I think it comes from just the people that I watched growing up. LeBron [James] was my favorite player growing up, and my dad always made me watch old Laker stuff with Magic [Johnson]. That was just fun to me — to see other people win, to see my teammates score. It just felt cool; that's just naturally who I am."
However, this offseason, Haliburton is working with NBA trainer Drew Hanlen and his primary focus has been his scoring. He knows that, in order to take the next step in his development, he needs to be more aggressive and look for his own shot.
"I think the biggest goal for me is just becoming more comfortable as a scorer," Haliburton said. "I think a lot of this summer has been about driving angles, getting to the free-throw line more, figuring out more ways to score in general. I think the biggest thing is just shifting myself mentally, shifting my mentality. I think being more aggressive as a scorer will allow me to also open up more things as a facilitator; I think it boosts both things for me… [I'll] still be facilitating, but I'll also be looking for my own [shot], and that's gonna help everybody at the end of the day."
Hanlen has been impressed with Haliburton, who could be on the verge of a breakout year.
"Tyrese is one of the best passers in the NBA, so this summer we've been working on adding a scoring component that will make him even more dynamic," Hanlen said. "We spent the first couple weeks working on his pace and footwork, and now we have been focusing on driving and finishing.
"This season, I think you'll see a guy that can drop 20-and-10 any given night."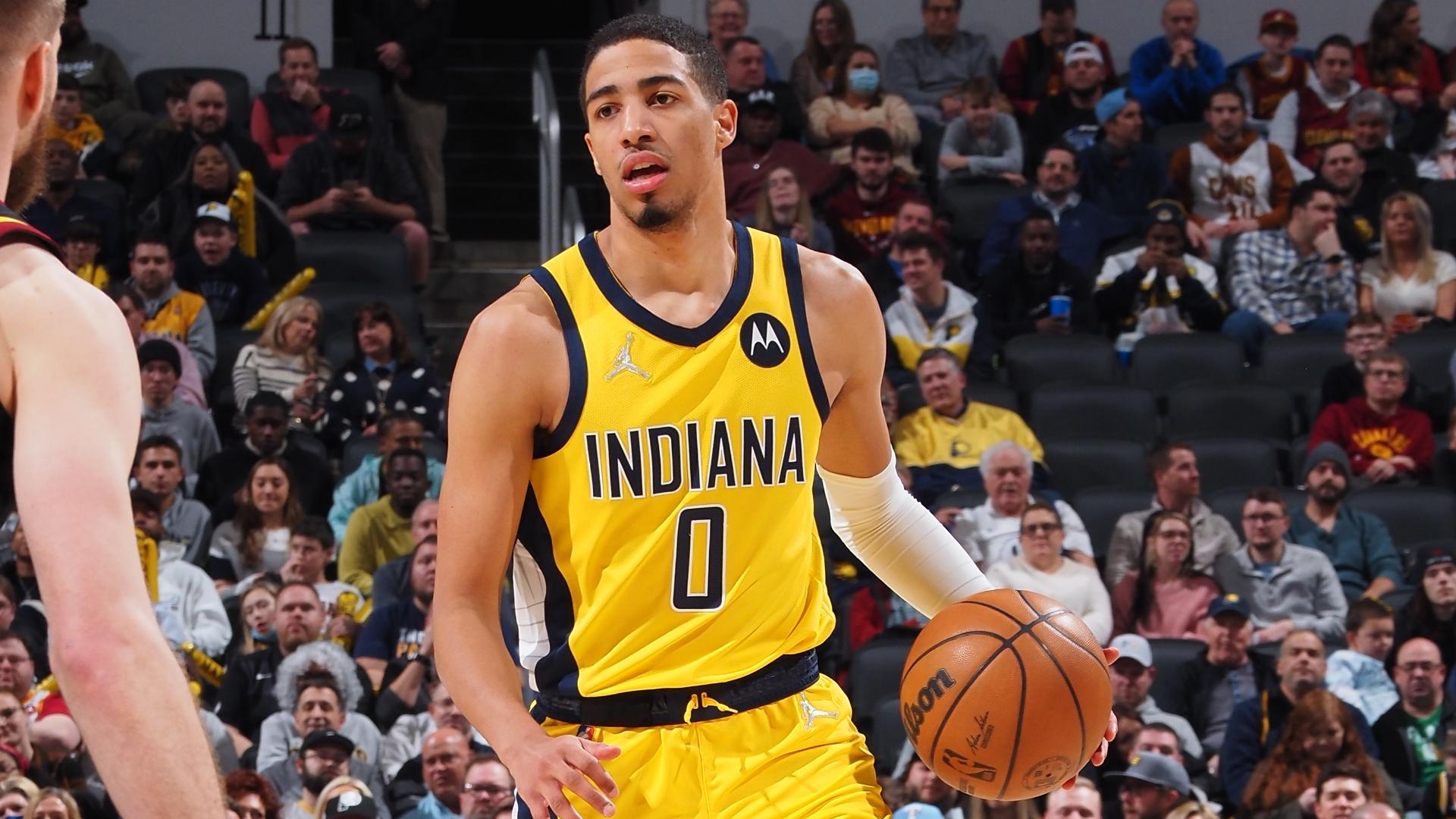 Haliburton agrees with Hanlen, and that's a goal that he's set for himself entering the 2022-23 campaign.
"I want to be a 20-and-10 guy and I want to be an All-Star," Haliburton said. "Those are two personal goals for me that, I think, are attainable. I definitely think [I can accomplish that], for sure. I think I had that ability last year, and there was a span where I was doing that, so I think that naturally, I just have that ability. But now it's just making that shift mentality-wise. I truthfully think 8, 9, 10 assists, that just happens for me playing basketball. I feel like I'm just a facilitator by nature, like, that just happens.
"But I think for me, it's just getting more field-goal attempts, getting to the free-throw line more — I think I had like 30 games last year with no free throws, so I'm paying attention to that — and just figuring out different nuances and different ways to score the basketball. That's just gonna allow me to elevate my game to a new level."
Hanlen wants Haliburton to attempt at least 14 shots per game. Over the final two months of last season, Hanlen and Spahn would text Haliburton "14" before every game as a reminder to shoot more.
Why 14 shots, you ask?
On January 28, 2022, Hanlen and Spahn were having dinner with Haliburton in Philadelphia. During their conversation, it came up that many of Haliburton's best games have come when he's aggressive and attempting at least 14 shots. Throughout his career, he's had 40 such games, in which he's averaged 20.5 points, 8.2 assists, 3.6 rebounds, 3.0 threes and 2.1 steals on efficient .493/.454/.840 shooting splits.
Haliburton seemed to take the advice to heart because the very next night, he put up 19 shots against the 76ers, scoring a career-high 38 points on a ridiculous 57.9% from the field, 55.6% from deep and 91.7% at the charity stripe.
(Note: In the four games that Haliburton has attempted 18 or more shots, he's averaged 28.5 points, 10.5 assists, 3.5 rebounds, 3.5 threes and 2.5 steals on incredible .533/.519/.870 shooting splits.)
As Haliburton mentioned, he's still working on shifting his mentality. He's a pass-first, efficient player who always looks to make the right play. He's learning that, as the No. 1 option, sometimes that means taking over the game and firing away. He's been thinking a lot about NBA legends like Michael Jordan and Kobe Bryant, who never shied away from shooting the ball.
"I still need to add more arrogance to myself, to be honest," Haliburton says with a laugh. "I think all of the great ones have an arrogance about them, and that's something that I'm paying attention to. Having a certain arrogance about me, I think that's important for me to take that next step.
"Next year, I'm going to take the step of being more aggressive and I'll be shooting more. And I've been told, 'You're going to have to shoot some bad shots. That kinda just comes with it.' And to me, there's a little bit of arrogance in that, but that's okay! I feel like I've earned that right. With the work I put in, I feel like I've earned that right, and I think it just comes with it."
As an executive, you'd much rather have a player who is too unselfish and needs a nudge to shoot than a player who's jacking up shots and needs to rein it in.
"He's very team-oriented; he thinks of others before himself at all times, and that's a great quality to have," Buchanan said of Haliburton. "I think he's learning sometimes you can be unselfish and be a great teammate, and still be thinking of yourself first — because sometimes thinking about yourself is what the team needs at that particular moment. I think that's part of his growth as a young player, learning when it's about him and not always about others around him.
"And that's not to say, [it's] in a bad way; [it's] just knowing, 'Hey, my team needs me to look for myself right now. They're looking for me to score and make a play and go get a bucket for us.' I think he knows those moments — I mean, he's a really, really cerebral player — and now it's just acting on it. And I think you'll see more of that this year."
Buchanan also points out that it's difficult for a young player to join a team midseason and take over the offense, which could explain why Haliburton wasn't shooting more down the stretch of last season.
"Obviously, being traded to a new team as a young player, your first thoughts are, 'Okay, how am I going to fit in with this new group that I haven't played with before?' He was very respectful to the older players, which I give him a lot of credit for," Buchanan said. "He came in and understood, like, 'Hey, some of these guys have accomplished more than me, and they've been around longer than me, so I want to learn from them and defer and be respectful of them.' And that was to his credit — that's the way a young player should treat a new situation. He only had 26 games with us, so he was just kind of feeling out everything around him. It's a new environment, it's a new gym, it's a new coach, it's a new strength coach. So there are all these things that are new to him that he's trying to get acclimated [to], and then, you throw in the on-court component of it and we're asking him to do a lot of things.
"I think by the end of the year, he understood, 'Okay, this is how I fit in, this is what Coach Carlisle is expecting of me, and I'm kind of getting a feel for my teammates now.' I think this year, you'll see a guy who's probably a little more assertive and trying to, some nights, score the ball a little more than he was for us at the end of the season."
Looking back on the last few years, Haliburton is proud of the progress that he's made. This is the first time he hasn't been with his team for a full offseason, training with Hanlen in Los Angeles after spending some time with Indiana earlier in the summer.
"I've developed a ton and I think I've just become more confident in what I do, trusting who I am as a player," Haliburton said. "I think that's the biggest thing for me. I've added so many different things, whether that's being more physical, finishing. I feel like I'm more natural of a shooter off the bounce. I'm getting a lot stronger than I was. When I got to school [as a freshman], I was 6-foot-5, 155 pounds and now I'm like 6-foot-5, 195 pounds. It's crazy how my body has changed, and that's just so exciting for me… I would say I started to take the nutrition side super seriously in my second year [too], hiring a full-time chef, and that was big for me and my body.
"And I'm just being confident in my own skin, I think that's the biggest adjustment."
Haliburton is determined to be great, and he's doing all of the right things to take a major leap forward during his third NBA season. The Pacers feel confident that they've put the keys to their franchise in the right hands, and they can't wait to watch Haliburton realize his superstar potential.
"I think that's the exciting part for us — there's still a lot of room for him to grow and evolve and improve, and he's got the work ethic and drive to do it," Buchanan said. "I know he's had a really good offseason, and I think he's put himself in a position to make another jump this season.
"It's hard not to get giddy about where Tyrese Haliburton could be in four, five, six years for us."