Sub-Saharan Africa is fertile ground for western companies seeking an army of new punters. One bereaved mother in Malawi is among those who feels she is paying the price
One morning in June 2021, Kettie Bonongwe* was at home in her village in northern Malawi when she was told that the body of her 16-year-old son, Wati*, had been found. He had killed himself.
Bonongwe was shattered. "I never expected anything like this to happen," she says. "It was heartbreaking for so many reasons." She knew, however, what had pushed him to take his own life.
"I blame betting for his death. If it weren't for betting, he would still be alive," she says.
Wati had been gambling every day for at least a year, Bonongwe believes. His performance at school had dropped, and he wasn't contributing as much to the household finances. In the days leading up to his death, he was being chased for outstanding debts.
A report by researchers from the Malawi Epidemiology and Intervention Research Unit (Meiru) came to the same conclusion. In interviews with Wati's mother, uncle and best friend, it emerged that Wati had stolen money from informal employers to fund his gambling on two occasions, lied to hide his habit, lost a job, damaged relationships and was distressed when he lost money.
His best friend suggested he was "addicted" to gambling and that circumstances leading up to his death tallied with research which has outlined how problem gambling can lead to suicide attempts.
Malawi has seen rapid growth in gambling since 2015, driven primarily by products from Premier Bet, launched by Editec, a company with offices throughout Europe, including the UK. It currently operates in 15 countries in sub-Saharan Africa. Wati was known to use its services.
"This company has brought me misery," says Bonongwe. "People are dying, there are social problems, families are breaking down. If it was my choice, I would love to see them go. The company is here for its own benefit. We have more problems than we did before it came."
The situation is similar across sub-Saharan Africa. The Guardian has spoken to families, health professionals and academics in Ghana, Malawi, Uganda, Nigeria and Zimbabwe who say gambling and associated harms are on the rise, and that their countries are being exploited by international gambling companies.
"When you look at the way [gambling companies] advertise, where [betting shops] are located [in deprived areas], their practices in terms of not having any social or community programmes around the dangers of gambling … the only conclusion you can come to is that these are exploitative practices," says Manase Chiweshe, a lecturer in the department of social and community development at the University of Zimbabwe.
Governments across sub-Saharan Africa are struggling to keep pace with the mass expansion of online gambling, according to a study released earlier this year by the universities of Ghana, Bath and Glasgow in partnership with Meiru.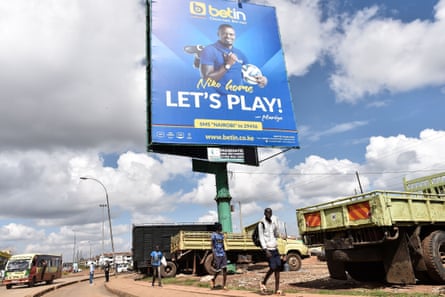 Researchers found that in the 41 countries where gambling is legal, only two had published reports on its impact. Legislation for electronic gaming machines exists in 13 (31.7%) countries, and for slot machines in nine countries (22%). Legislation addressing online products was identified in 15 (36.6%) countries, and in 18 (43.9%) for advertising.
The study concluded that gambling companies were able to take advantage of "a regulatory void surrounding online forms of gambling and the promotion of gambling products".
New products are often driven by European sporting events, particularly Premier League football, and technologies are often provided by companies based in Europe. To encourage gambling, companies enlist community members who often work on a commission basis. "All these trends suggest that the gambling industry in sub-Saharan Africa has neocolonial characteristics" said the report.
Africa is an attractive proposition for the gambling industry with masses of untapped potential. Since 2020, online gambling across the continent has boomed, partly due to the Covid pandemic when people were stuck at home. Revenue in the online gambling market is projected to reach $1.62bn (£1.31bn) in 2023, almost double that of 2020.
Currently, 64% of people in sub-Saharan Africa have smartphones, and that number is predicted to rise. By the end of 2021, just under a quarter (22%) of the total population in sub-Saharan Africa was using the mobile internet. Online payments are also increasingly used.
Gambling advertising is pervasive across all forms of media. It often features football "heroes", explains Tunde Adebisi, a researcher from Nigeria. There are billboards in rural areas, influencer-led stories on social media, and pop-up adverts while football games are on television. Adebisi says: "The adverts are all over the place. I did a study on the frequency of advertisement of betting brands during a live Premier League football game. They appeared every minute throughout the 90 minutes [of a game]. There are also advertisements at half-time. It's worrisome."
In sub-Saharan Africa, up to 40% of the population live below the poverty line, and unemployment is high among young people. Gambling, unlike in other parts of the world, is therefore often seen as a source of income and improving lives. Gambling-related harms and health problems are largely ignored. It is almost impossible to get a clear idea of the prevalence of gambling-related harms in sub-Saharan Africa due to a dearth of data.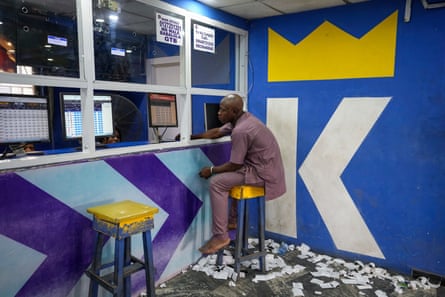 One study reported that 9.6% of a sample of 261 urban Ethiopian adolescents were compulsive gamblers and another that 91% of gamblers in a sample of 246 urban Ugandan youths had at least one gambling problem. There is, however, more and more anecdotal evidence on the human cost of gambling.
Gambling has been associated with petty and serious crime, domestic violence, family breakdown and mental health problems. Academics and health professionals told the Guardian that, in Uganda, one man tried to poison his family after losing a bet. In Zimbabwe, where youth unemployment is very high, young people use gambling to fund crystal meth habits. One woman who got into debt after gambling fled from Zimbabwe to South Africa and left her husband to face debt collectors.
There have been gambling-related suicides, and one man in Uganda is alleged to have prostituted his wife as payment for gambling debts.
Dr Mark Mohan Kaggwa is an addictions psychiatrist and researcher in Uganda. Seven out of 10 of his patients present with gambling addiction, usually paired with a substance abuse problem, he says.
People under 25 are not legally allowed to gamble in the country but this is not enforced. "Many young individuals are going into gambling. I think it has worsened over the pandemic. Gambling was one source of income for a lot of children," he says.
"Regulations look nice when you see them on paper but, on the ground, things are escalating. [Gambling companies] are going deeper and deeper into rural areas to pull out all possible people who can be involved."
Back in Malawi, Bonongwe is still living with grief. She breaks down in tears as she contemplates life without her son. She is a single mother, with two remaining children, both with health problems, and she does not work. "Wati was the only one with an income. I lost a source of hope and a means to survive."
Source : The Guardian