First lady Jill Biden, on a five-day, two-nation trip to Africa with granddaughter Naomi, told The Associated Press on Friday that President Joe Biden intends to run for president again.
"Is there any reason for any of us to think that he is not running again," Biden was asked in an interview with the AP's Darlene Superville. "We've heard him say several times that it's his intention — it is his intention to run?"
"Are you not believing this Darlene? I mean, how many times does he have to say it for you to believe it," the first lady replied. "He says he's not done. He's not finished what he started."
She touted many of Biden's accomplishments from his first two years in office, including the CHIPS bill, COVID relief funding, and the Bipartisan Infrastructure Act, wrapping up by saying, "He's done so much — and Darlene, he's just not done."
"So, is all that's left at this point is just to figure out a time and place for the announcement," Superville asked.
"Pretty much," Biden replied.
The president has maintained it's his intention to run again but has not yet made an official announcement. He would be 86 at the end of his second term.
The first lady's trip to Africa — her sixth time and first time as first lady — is intended to demonstrate the United States' commitment to keeping African nations at the table for a host of global priorities, administration officials said, but comes as China continues to expand its influence across the continent.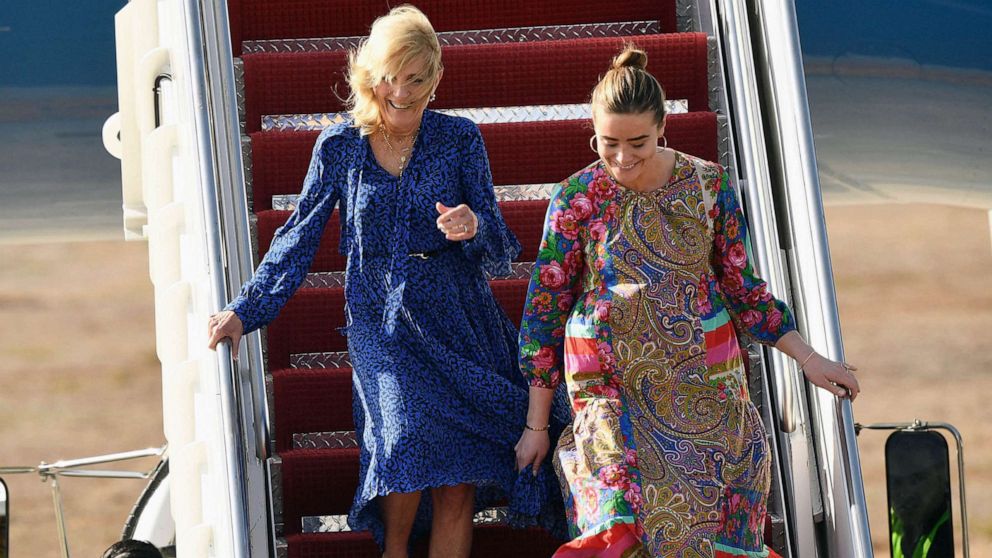 After two days in Namibia, the first lady touched down in Kenya earlier Friday where she was again welcomed with dancing and smiles for the second leg of her trip. Her 29-year-old granddaughter Naomi, who last year was married at the White House, helped hold down her grandmother's dress as a windy day greeted them on the tarmac. Two small girls in pink dresses gave them flowers alongside Kenya's first lady Rachel Ruto.
"This is my third visit to Kenya. And I, you know, I have incredible memories here," she said Friday at a women's empowerment reception. "In fact, I told my granddaughter Naomi that coming here changed my life. And that's why she wanted to join me. So it's wonderful to be back and I, you know, I couldn't ask for a warmer welcome."
The first lady is meeting with partners in Kenya throughout the weekend to highlight the ongoing drought and food security crisis in the Horn of Africa.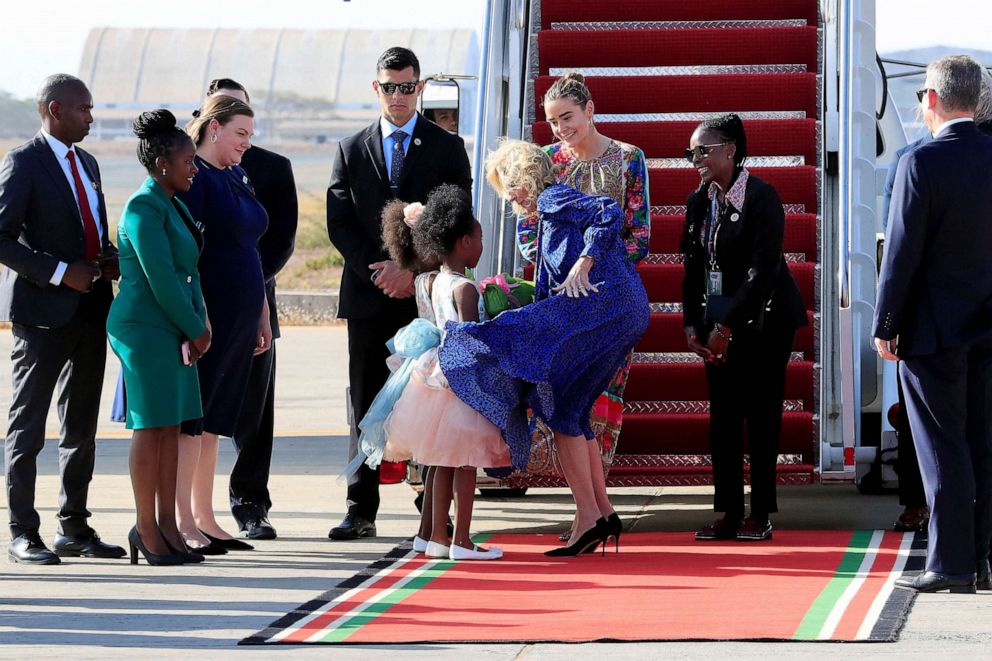 Earlier in the week, an administration official said the first lady will also look at how Russia's invasion of Ukraine has harmed the region's food supply. Before touching down on Friday, she acknowledged the first-year anniversary of the war in Ukraine with a brief statement to the press.
"I just wanted to say on the one-year anniversary of Ukraine that not a day goes by that I don't think of President Zelenskyy, Olena, their family and all the people of Ukraine and what they're going through. And how hard they're fighting to keep their freedom," the first lady said.
The Biden's spent the previous two days in Namibia to focus on youth empowerment in the budding democracy. On Thursday, the two passed out candy to some excited neighborhood children, when the first lady ran out of M&Ms. Biden said, "Wait!" to a small boy who looked disappointed and gave him the White House bag that had held the candy, according to pool reports.
At a luncheon on Thursday, she spoke about the role of young people in advancing democracy, particularly one as young as Namibia, which gained independence from South Africa in 1990.
"I'm proud to be standing here, standing with a strong democracy," Biden said. "As Joe said at the summit, African voices, African Leadership, and African innovation are all critical to addressing the most pressing global challenges and realizing the vision we all share is a world that is free."
"Of course, there will always be differences," she added. "But what is important is what the Biden presidency represents. And that is decency, democracy, and diplomacy."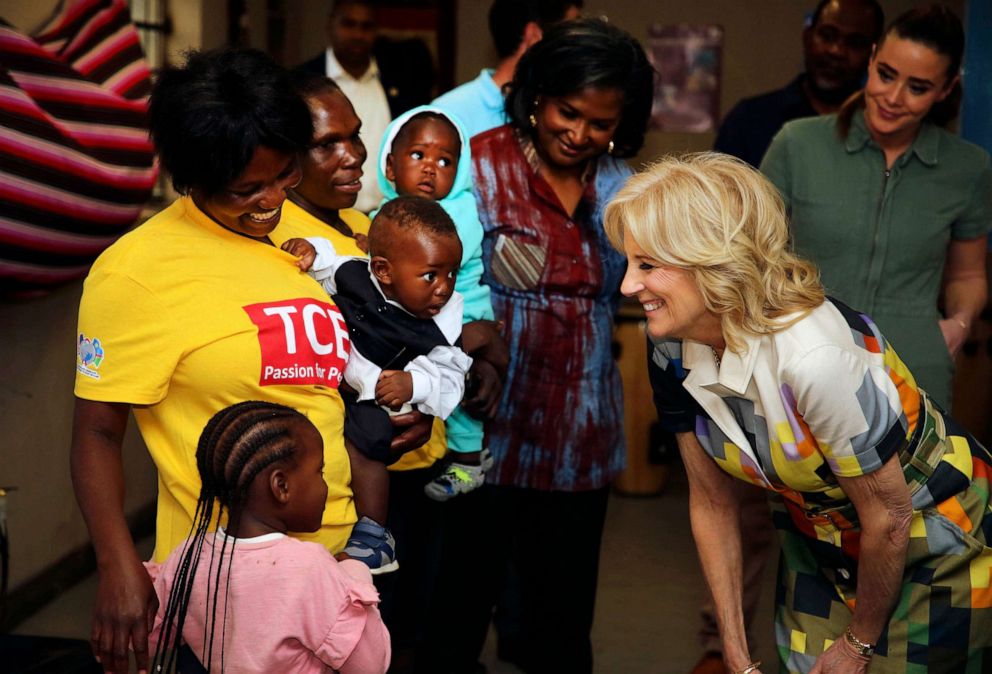 The first lady is the first senior White House official to visit Africa since President Joe Biden hosted a summit with African leaders at the White House in December. Biden is expected to visit the continent at some point, after telling leaders he was "eager" to visit.
Treasury Secretary Janet Yellen visited Senegal, Zambia and South Africa already this year, and U.S. ambassador to the U.N. Linda Thomas-Greenfield stopped in Ghana, Mozambique and Kenya.
Source : ABC News